White's Inc. is a third generation owned and operated wholesale farm and light industrial equipment distribution company originating as White Implement Company of Orange, Texas.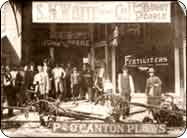 Founded by S.M. White, in 1918, primarily as a retail operation, new opportunities for growing dictated a move of the operation to Houston, Texas in 1920, accompanied by a change of the name to the Houston Implement Company. Subsequently, with the advent of more powered equipment in agriculture,the name became Houston Power Equipment Company.

Emerging from the depression presented further opportunities for expansion and consolidation of the operation. In 1950 White's Inc. was added to the business as a wholesale distributor. This aspect of the business found its emphasis in machinery utilized in the growing and irrigation of rice in the local area.

During the 1970's and 1980's, White's Inc., was one of the largest suppliers in the United States of stationary power units for crop irrigation - using engines supplied to White's by the International Harvester Company and the John Deere Company. During this period. The Houston Power Equipment Company portion of the company was phased out.

1980 saw further enlargement of the business with the acquisition of the A.R. Thorell Supply Company in Stuttgart, Arkansas. The Stuttgart Company now operates as a remote warehouse and sales location to serve the Mid-South states.

During the past 50 years White's Inc. has grown to be a major wholesaler and marketer operation in six states, serving over 500 businesses. White's is currently representing 30-plus manufacturers and importing from several foreign countries.